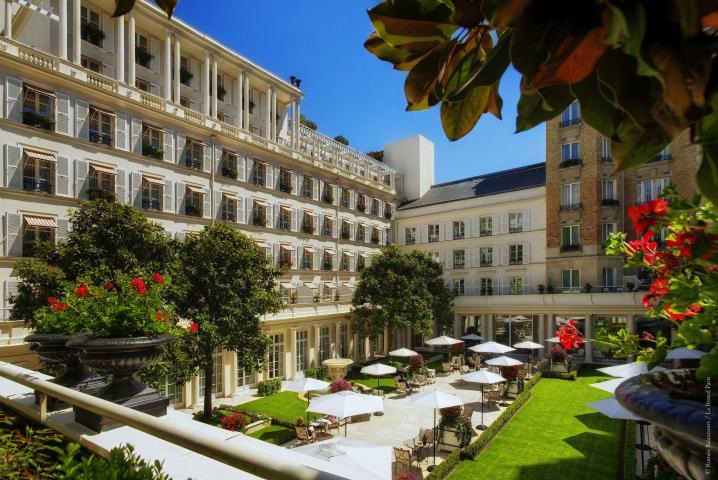 This Summer, after having embellished its famous garden "à la française", Le Bristol is to unveil twenty-nine entirely renovated rooms and suites, all of which are now ready and waiting to welcome the hotel's French and International guests, and ensure they enjoy a uniquely refined experience.
Thus ends the impressive renovation programme costing over 150 million euros, financed by the Oetker group, to which Le Bristol has belonged for over thirty years. These suites and rooms have been decorated by Mrs Oetker, owner of the hotel. No less than 1.3 million euros will have been necessary to renovate the Royal suite, one of the most beautiful Signature suites in the hotel.
The Royal Suite
Located on the 5th floor of the hotel, with an unrestricted view over the hotel's famous garden "à la française", this 300 m2 suite is decorated in a manner worthy of an eighteenth-century private town house with Louis XV and XVI-style furniture in precious wood.
This prestigious apartment boasts two large lounges and a dining room with parquet flooring by Briatte, which can also be found in the Hall of Mirrors at the Château de Versailles and in the Grand Hall at the Opéra Garnier. The dining room sits up to twelve guests, where the gastronomic cuisine of Eric Frechon, head chef of Le Bristol's 3-star rated Epicure restaurant, can be enjoyed.
Seven hundred meters of precious fabrics created by such prestigious manufacturers as Rubelli, Mulberry, Veraseta or Canovas have been used to adorn every one of the suite's seven rooms, to majestic effect.
Two luxurious bedrooms with walls covered in a patina highlighted with powdered gold are sure to delight the guests staying in this suite. Its two bathrooms, in Crema Marfil marble from Alicante with blue cabochons from Savoie, are fitted with twin basins, a bidet, a separate shower and a hammam.
This suite completes Le Bristol's eight highly prestigious Signature suites and will enable it to cater to some of the most select and demanding guests in the world.