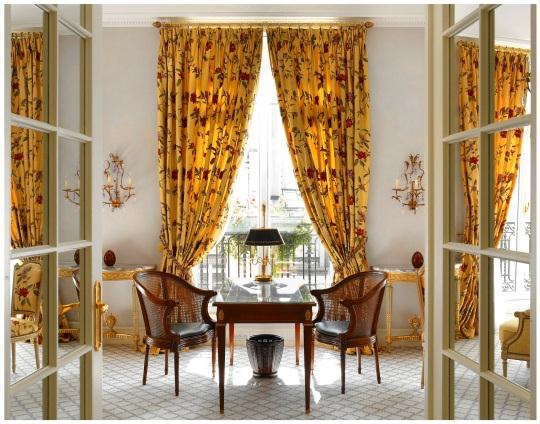 Le Bristol Paris is the first luxury hotel to complete its renovation programme, in complete discretion.
It still took 6 years for Le Bristol to carry out this programme without having to close its doors. This has set Le Bristol apart from other Parisian luxury hotels. Its owners, in fact, have never stopped investing, which has allowed the famous hotel to maintain its high rank in the Parisian hotel sector.
The programme involved refurbishment but also an extension and many new features, as the hotel now offers its guests fully restored rooms and suites, a luxury one Michelin-starred brasserie, the 114 Faubourg, Le Bar du Bristol, which has rapidly become the place to be for Parisian nights out, and a naturally-lit luxury spa, the Spa Le Bristol by La Prairie.
This restoration is now complete with the entire renovation of the lobby and nineteen rooms and suites located on the seventh floor of the hotel.
Since the hotel opened in 1925, the lobby has been trodden by many guests such as Marilyn Monroe, Grace Kelly, Charlie Chaplin, Orson Welles and Adenauer. Today, it has gained a new lustre with white Calacatta Michelangelo marble from the Italian town of Carrara. This grey veined marble will take its definitive colour as it grows gradually lighter over the next two months. This echoes the white walls of which the stone has been cleaned and polished to restore its original colour.
Among the restored suites, two historically steeped Signature suites have undergone drastic change: the Panoramic Suite and Penthouse Suite*.
The Panoramic Suite
Used as a location for "Midnight in Paris", a movie directed by Woody Allen, the Panoramic suite offers breath-taking views over the Parisian rooftops and Le Bristol's French-style garden below. Equipped with a kitchen, a spacious lounge and a dining room, it now has a large dressing room that will delight all fashionistas visiting Paris.
The Penthouse Suite
Hippolyte Jammet, the founder of Le Bristol, designed this suite to live with his family, on the seventh and eighth floors of the main wing. The duplex was not completed until years later, too late for the Jammet family which had never ceased to grow. And so the Penthouse Suite entered the hotel's catalogue.
Nowadays, this Parisian apartment is very popular with the big names in international politics, but also the entertainment and film world, and welcomes its guests in a prestigious new décor.
Le Bristol Paris turns a new page in its history to offer its prestigious guests an ever more authentic experience of the art of French living in a prestigious Parisian setting providing exemplary service.
As Didier Le Calvez, CEO of Le Bristol Paris, declared: "I would like to thank the Oetker family, owners of Le Bristol since 1978, for their outstanding financial support of more than 150 million euros over the past four years. Their trust has allowed us to make Le Bristol the first Parisian luxury hotel to complete its renovation programme; the hotel has all the assets in hand to become one of the most beautiful hotels in the world."
Source : Le Bristol Press Release dated April 16, 2014