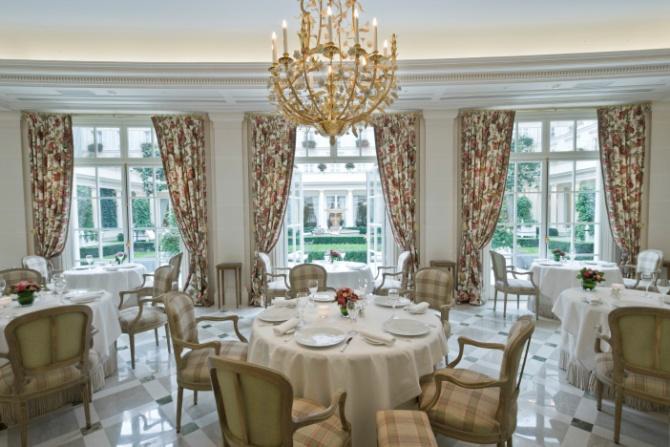 Le 114 Faubourg receives its first star in the 2013 Michelin Guide!
Following a third Michelin star awarded to Le Bristol's Epicure restaurant in 2009, Le 114 Faubourg – the hotel's brasserie de luxe – has been honoured with its first star in the Michelin Guide. As such Le Bristol Paris has become the only Parisian Palace Hotel to be crowned with "4 stars".
This achievement can be attributed to the talents of Chef Eric Desbordes, mentored by Eric Frechon – Hôtel Le Bristol's Chef des Cuisines – and Laurent Jeannin, Hôtel Le Bristol's Pastry Chef, who was named Pastry Chef of the Year 2011 by his peers.
Every day, this exceptional trio is united by a passion to produce the very best, heightened by a desire to combine simplicity with excellence. Additionally Patrice Jeanne, the charismatic director of the restaurant, and his team, create a warm, Parisian ambiance that makes Le 114 Faubourg the place to be for those looking for a brasserie de luxe in France's capital.
This Michelin star adds another feather to the very talented cap of Hôtel Le Bristol, which has long been renowned as the temple of Parisian gastronomy, aided by names such as Eric Frechon (MOF1 1993), Frank Leroy (MOF 2000), Frédéric Kaiser (director of the Epicure restaurant and MOF 2011) and Maxime Hoerth, Head Barman at Le Bar du Bristol and MOF 2011.
In 2009, Eric Desbordes joined the most Parisian of "palaces", when the new wing of the hotel was inaugurated. For the past four years, this young and passionate chef has surpassed himself every day, offering his clientele delicious, family food. Just like his renowned mentor, this chef crafts his cuisine around the ingredients: fresh, seasonal and authentic, he treats them with respect and takes great pleasure in working with them. Signature dishes include the hard-boiled egg and king crab, ginger and lemon mayonnaise, his famous Duck pâté in a crust, vinegar flavored vegetables (which earned Eric the title of Pâté en Croûte world champion in 2011), the peppered artichoke soup with fry-pan foie gras, truffle emulsion, his Beef rib eye and his Veal eye rib and the famous Bourbon vanilla Millefeuille, a touch of salty caramel and ice cream created by Laurent Jeannin.
Located on two levels, each with a view onto the other and linked by a magnificent wrought iron staircase, the brasserie de luxe of Hôtel Le Bristol is a garden of delights. Madame Oetker wanted to make Le 114 Faubourg a fresh and joyful place, full of life, an antidote to urban gloom. Her daughter-in-law, Elvira Oetker, suggested working with Guendalina Litta Modignani – an Italian woman famous for organising the most spectacular private parties in the world. Assisted in her task by the interior designer, Daniel Patzelt, Guendalina Litta Modignani focused on one of Maja Oetker's favourite flowers: the dahlia. A veritable abundance of photographs of dahlias in warm shades, immortalised on bright-orange backgrounds, has filled the walls of Le 114 Faubourg for the past three years.
Didier Le Calvez, CEO of Hôtel Le Bristol, states: "This award is the recognition of the daily work and commitment of our teams at Le 114 Faubourg. I would particularly like to congratulate our chefs Eric Desbordes and Eric Frechon, as well as Patrice Jeanne. It is very much thanks to their efforts that Hôtel Le Bristol now has a "fourth star", unmatched in Paris. A Palace Hotel is duty-bound to showcase its gastronomic heritage, and this star, this recognition, is rightly deserved. It reinforces our positioning as the first Parisian Palace Hotel driven by gastronomy. It is also a great honour for Oetker Collection, which has now earned its seventh star, and attests to the everyday dedication of the group to culinary art."
Le Bristol is one of the masterpiece hotels of the Oetker Collection. The group also includes one Michelin star for Chef Paul Stradner at the Brenners Park-Hotel & Spa in Baden-Baden, and two stars for Chef Yannick Franques at the Château Saint-Martin & Spa, who will also be presiding over the kitchens of L'Apogée Courchevel when the property opens on 11.12.13.
1 "Meilleur Ouvrier de France" – a prestigious title awarded to the very best craftsmen in France.

Source : Le Bristol Press Release dated February 18, 2013